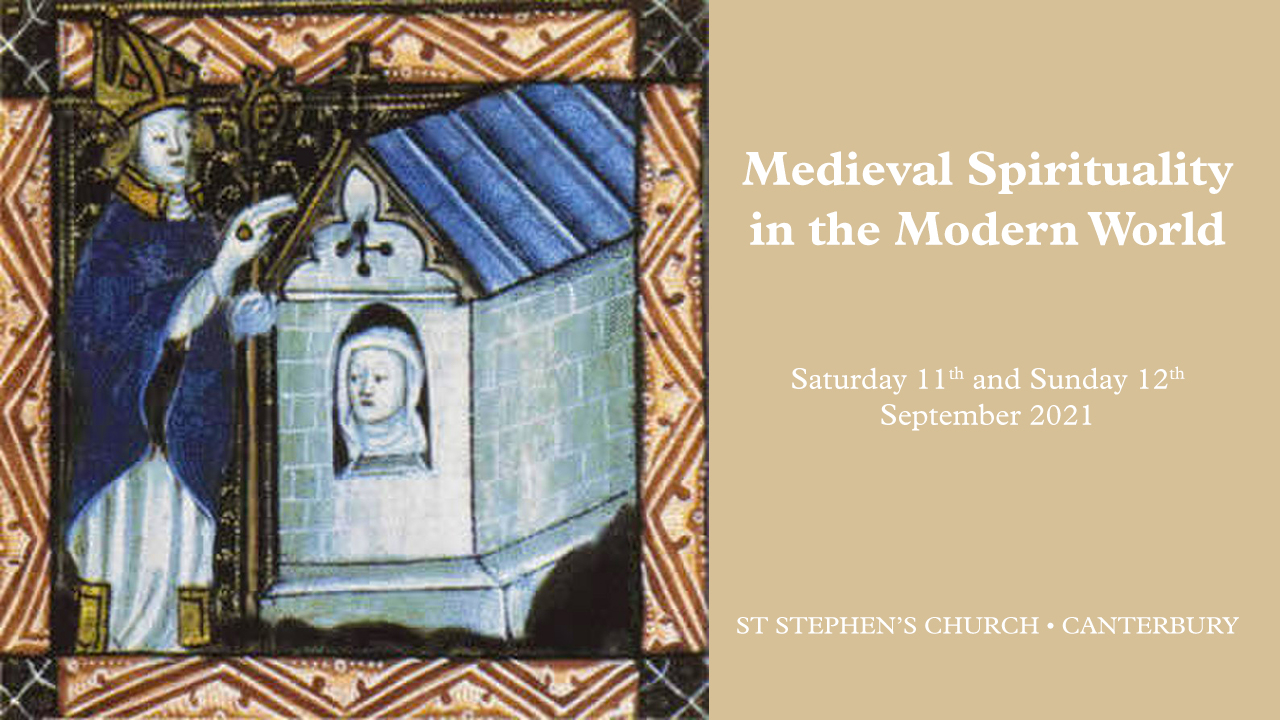 Loretta 2021
800th Anniversary Celebration
2021 marks the 800th Anniversary of the Enclosure of Lady Loretta de Braoze as an anchoress at St Stephen's Hackington (now known as St Stephen's Canterbury.) She lived in enclosure for over 40 years until her death but had an important ministry which included welcoming Franciscans to England and on at least one occasion advising the King.
We are celebrating this anniversary with a festival weekend on September 11th and 12th, which will include an all-day Symposium on the Saturday looking at what medieval spirituality has to teach the modern world, very different in some ways but facing some very similar challenges. There will be special festival services on the Sunday.
There is no charge but donations towards the cost of the weekends which will come to around £400, would be very much appreciated.
10.15am
The Anchorite Tradition, then and now
Dr Hilary Pearson
11.00am
The Hermit Tradition, then and now
Ms Sara Maitland
11.45am
The Franciscan Tradition, then and now
Dr Tom Herbst
2.00pm
The Benedictine Tradition, then and now
Br Thomas Quartier OSB
2.45pm
Monasticism, then and now
Rev. Kevin Maddy
4.00pm
Latin Vespers for Lady Loretta
Sung by Canterbury Gregorian Music Society
10.30am
Sung Eucharist
Setting: Missa Orbis Factor – Plainsong
Hymns: 391, 449 (t. 'From strength to strength'), 339, 308, 52
Voluntary: Ecce tempus idoneum – Tallis
6.00pm
Choral Evensong
Responses: Ayleward
Psalm 119 vv. 73–80
Canticles: Brewer in D
Anthem: Jesu, the very thought of thee – Bairstow
Hymns: 444, 459, 252
Voluntary: Fantasia on Ein' feste burg – Scheidt
Information for participants
Unless Covid restrictions make it impossible we plan to hold the Symposium in St Stephen's Church Canterbury which can accommodate 20 people or household groups with appropriate social distancing. There are also 10 additional places with a restricted view in the chancel behind the video screen. The symposium will also be streamed live online.
A cold vegetarian lunch will be provided for Symposium participants at St Stephens
If you would like to take part in the Symposium, whether in person or online, please download the registration form and return it to ladyloretta@ststephenscanterbury.net.
Past Events
Annual Commemoration of the Anniversary of the Death of Lady Loretta de Braose,  4th March 1266
Thursday 4th March 2021
This year we will be celebrating the life and death of Lady Loretta de Braose online on Thursday 4th March at 19.30- 20.30 GMT with a talk by Dr Hilary Pearson D Phil:
"Annora De Braose: The Recluse Of Iffley"
followed by Compline and prayers near the grave of Lady Loretta.
Annora was Loretta's sister and also an anchoress – in Iffley, Oxfordshire. Dr Pearson is a resident of Iffley and on the PCC of St Mary the Virgin, Iffley parish church. After a career as an intellectual property lawyer she obtained a doctorate in medieval history from the University of Oxford. One of her particular areas of interest is medieval religious women and their spirituality.
Who was Lady Loretta?
From 1221 to 1265 Lady Loretta de Braose, an English noblewoman lived at St Stephen's as a anchoress; a woman who lived her whole life alone in one room, usually attached to a church, spending her time in prayer and offering counsel to visitors through a window.
An introduction to Lady Loretta
A talk given by Rev Dr Julie Hopkins on the anniversary of Loretta's death in 2019
The Lady Loretta and her sister
An older and more romantic account of Lady Loretta's life, with some information on her sister Annora, who was also an anchoress, at Iffley near Oxford. This comes from an unpublished manuscript by Rev H E B Arnold, a priest in the early 20th century whose approach was somewhat less historically rigorous.
You can read more about Annora here and more about the anchorite movement here.